Armstrong LVP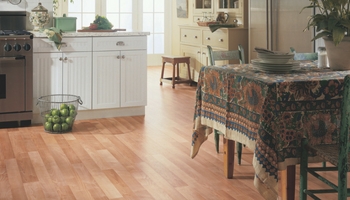 Looking to add the natural looks of wood or stone in your home? Be sure to visit Fox Floors to learn more about Armstrong Luxe. Luxe offers authentic wood and stone looks, but it adds extra durability and comfort underfoot.
Like other luxury vinyl plank options, Luxe looks pretty much exactly like wood or stone. These looks are truly authentic, and they will never fade over time. Luxe, however, is better-known for its increased durability. The planks are 100% waterproof, so they are ideal for moist settings such as bathrooms, basements, and kitchens. Also, Luxe planks have a commercial-grade surface that will resist scratches, scuffs, and normal wear and tear. The surface remains stain resistant as well, and it's extremely easy to clean. In fact, any spills and stains can be wiped away from the surface without any consequences! As a result, Luxe is a great option for homes with children and pets.
Luxe floors can be installed with Armstrong's Rigid Core technology. The Luxe planks are fortified with a rigid core for added strength and support, and a cork underlayment is included for sound absorption and softness underfoot. The cork underlayment, given its softness and flexibility, makes it possible to install the Luxe planks over imperfect subfloors. Any subfloor imperfections (such as bumps and chips) will be covered up by the floor. Also, because the Luxe planks lock together in place, no special adhesive is required for installation.
To learn more about Luxe and to check out other Armstrong vinyl flooring options, visit our Staten Island, NY showroom today!