Hardwood & Humidity
If you're considering solid or engineered hardwood floors, one crucial factor you should consider is how they expand and contract with changes in humidity and climate. Don't let the idea of your floor naturally changing deter you from getting the type of floor you have always dreamed of. With the proper installation and knowledge beforehand, expansion and contraction is an insignificant part of hardwood. At Fox Floors Carpet One Floor & Home, we are here to help you understand and counteract the effects of hardwood and humidity.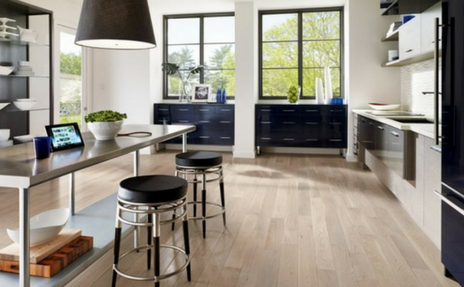 Moisture and Hardwood
Hardwood planks always carry moisture in them. While they are dried out before they are milled into the hardwood floors you see today; they still have some moisture content. Because changes in the air can change the amount of moisture in the hardwood, they will continue to expand and contract after they have been installed. For example, hardwood floors will expand in the summer in humid climates, because they are taking in more moisture. They will contract in the winter because there is very little moisture still in the air.
Protect Your Floors from Humidity
The best way to protect your floors from humidity is to have them installed correctly from the beginning. A gap should be left between the wall and your floors to allow them to expand. Your baseboards will cover this gap after floors are completed. If there is not a gap left during installation, floors can expand and buckle in spots where they have no room to go. It is tough to fix floors that have buckled, as they are usually nailed in. We recommend hiring a professional installer to ensure your hardwood is done correctly.
Another essential way to keep hardwood floors looking their best is to monitor the temperature of your home. In the summer, keep rooms cool by using the air conditioner. In the winter, keep your home warm by using the heat.