Waterproof Flooring from Mannington
Mannington Adura Max is one of the most dependable luxury vinyl plank options available today. Adura Max combines durability, style, and comfort, so it will certainly fit in any room in your home. Fox Floors is an authorized Mannington dealer, so we offer Adura Max in our Staten Island, NY showroom.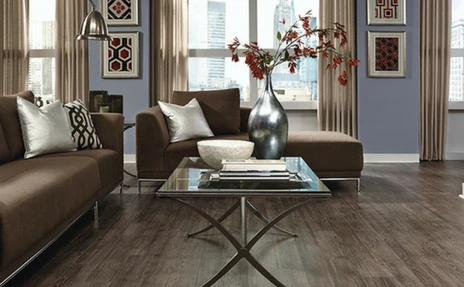 Construction of Adura Max
To truly understand Adura Max, you must understand its special construction. It's made of four unique layers: wear layer, design layer, HyroLoc core, and Ultra-Quiet pad. The wear layer features Mannington's ScratchResist technology, which includes urethane and aluminum oxide. With this technology, the wear layer will resist all scratches, scuffs, and other surface blemishes. Plus, stains won't be an issue, and any spills can easily be wiped from the surface. Underneath the wear layer is the design layer, which includes a high-definition wood or stone visual. This layer provides Adura Max with its natural appearance.
The HydroLoc core is the layer that really sets Adura Max apart from most luxury vinyl flooring options. This core provides each Adura Max plank and tile with exceptional dimensional stability, and it also is 100% waterproof. So, even when exposed to moisture, Adura Max planks and tiles will never expand or contract. In addition, because the HydroLoc core is extremely strong, Adura Max can handle heavy foor traffic and other impacts. Because of its core, Adura Max is suitable in any area in the home…even those busy with children and pets!
For extra comfort underfoot, Adura Max includes the Ultra-Quiet pad. This pad makes Adura Max softer and warmer than traditional hardwood and laminate flooring, and it also provides the planks with some extra resilience so that they can be installed over uneven subfloors.
Our Selection of Adura
As part of our luxury vinyl flooring selection, we offer Adura Max vinyl plank flooring and vinyl tile flooring. The 6"x48" planks look and feel exactly like real wood planks, while the 12"x24" tiles do well to replicate natural stone and ceramic tiles.