Vinyl Plank vs. Hardwood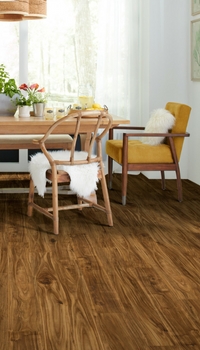 Vinyl plank flooring is certainly a popular alternative to real hardwood, but how exactly does it compare? Let the experts at Fox Floors in Staten Island, NY help!
Appearance
For the most part, vinyl plank flooring looks exactly like real hardwood. Vinyl planks offer realistic wood looks, and they also can be textured so that they feel like real wood. In fact, certain vinyl plank options such as COREtec feature registered embossed technology, which means that the surface is textured according to the actual wood grains.
Performance
When it comes to performance, vinyl plank flooring definitely has an upper hand over real hardwood. Hardwood, even engineered hardwood, isn't suitable for every room in the home, and it usually cannot handle commercial settings. Vinyl plank, however, can pretty much be installed anywhere. It can handle moisture and humidity, and it also stands up against heavy foot traffic and other impacts. As a result, vinyl planks will never expand, contract, or crack. Plus, vinyl plank flooring will not scratch or scuff.
Maintenance
Vinyl plank flooring, given its premium performance, is easier to maintain than hardwood. Only routine sweeping and cleaning with water is required to keep the surface looking as good as new. You'll never have to apply special treatments or cleaning solutions. Also, refinishing, which can often be expensive and time consuming, will not be necessary when you choose vinyl plank.
Installation
Most vinyl plank flooring options offer the click installation method, which is rather quick and easy compared to traditional hardwood installation methods. Click here to learn more about vinyl plank installation.