Wide Plank Hardwood
It may be surprising to learn that wide plank hardwood is not a new trend. In fact, wide plank hardwood was used in homes for many years as the flooring of choice, due to its ability to add structure to homes. Today, wide plank hardwood floors are known and loved for their natural character and the design they bring to homes. The wide plank hardwood trend is here to stay, with hardwood floors being one of the most long-lasting options available on the market. At Fox Floors Carpet One Floor & Home, we carry a wide selection of wide plank hardwood to suit whatever home design you desire.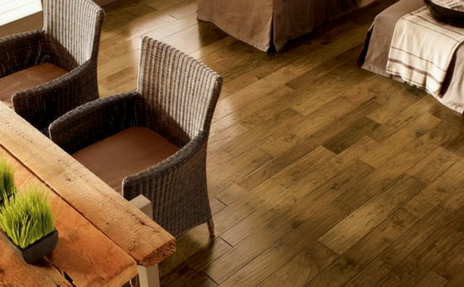 Wide Plank Hardwood Characteristics
Wide plank hardwood is different from typical hardwood because of its width. Wide planks are characterized by widths that are five, seven, nine or even twelve inches and wider. Wide plank floors create the illusion of a larger space. They also help make an airy, bright space, with a smaller number of seams in the floor. While many choose wide plank hardwood to get the original farmhouse design, wide plank hardwood can also be used for contemporary, modern, and cozy-chic designs. One of the best things about wide plank hardwood is that it is adaptable to almost any design for many years.
As far as its durability and performance, hardwood flooring is one that lasts. While the planks will wear over time in heavy traffic areas, they can be sanded and refinished to look like new. During this process, the stain can also be changed, making hardwood a versatile floor when it comes to home design. Overall, wide plank hardwood is strong and sturdy, but when it comes to changes in climate and humidity, it will expand and contract. When it is installed correctly, the expansion and contraction is easily handled by leaving room for the floor to naturally change.